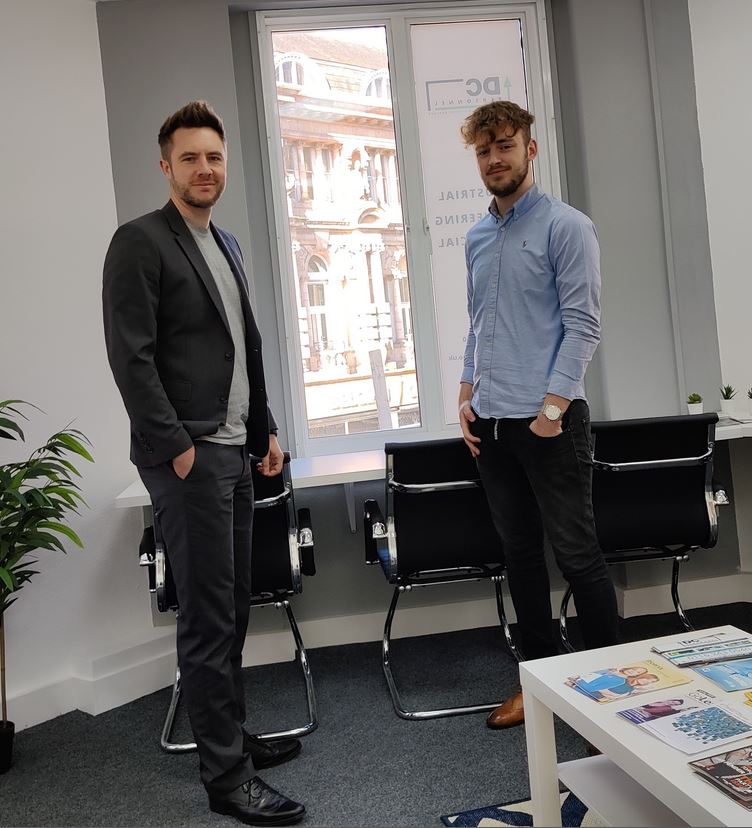 DC Personnel, a specialist recruitment business launched back in Leicester in March 2020, was only a few weeks into starting out before the UK entered its first lockdown. The new start-up had to contend with a number of different issues over the past 12 months and to throw in Leicester being a city that endured the longest degree of COVID restrictions, it has certainly been a challenging year.
However, Daniel, (Director) has always remained undeterred and is now stepping up and out as the country and Leicester eases out of lockdown restrictions. "Navigating the business through the choppy waters over the past 12 months or so has been a test, to say the least, but it was the hand we were dealt with. One thing for sure is how much I have learned about the ability to have a positive mindset, being able to focus on one thing at a time to enable the business to continue to move forward. We are thankful for all the support shown from our family, friends, and extended network to now find ourselves in a more encouraging position. Reflecting on the past year we are incredibly thankful to all our wonderful workforce, clients, and the support from my network for being part of our journey so far."
Daniel said, "During this pandemic, we have helped to place workers in essential roles in warehouses, logistics depots and testing centres and our aim here is to help provide local employers with local talent . We have seen just how important it is that businesses not only have good values but truly live by them. As we see the job market continue to feel the strain of Covid-19 now is the time to step up. This isn't just about sifting through CVs, it's about understanding the needs of both an organisation and the candidate, and matching people on both skill and culture."
The DC Personnel office is situated in a great location on the high street in the heart of Leicester on Rutland Street. One of the key aspects of importance was creating a space where our workforce have a candidate experience they have never had before when entering an agency. Daniel added, "We have a fantastic registration hub for all our candidates and we hope to make full use of this as we now begin to lift restrictions. We feel it is vital to seek out innovative solutions for job seekers especially now more so than ever what with both the Brexit implications and EU settlement scheme in force this year in the UK, workers will want to register with a reputable recruiter which really helps them find opportunities with local businesses."
Daniel went on "As a new business, we wanted to extend our service offering to all sectors including those in the food and drink space, we hold the protection of our workers' welfare as a priority, and having recently been awarded our GLAA licence we can support local businesses within the regulated industry too."
A new report from the Recruitment & Employment Confederation (REC) showcases how recruiters have stepped up through the pandemic to keep the wheels of our economy turning and urges employers to treat recruitment as "a priority issue". 'Recruitment and recovery: How we can create a more productive and inclusive labour market' outlines the economic and social impact of recruitment in the UK, with a headline finding that getting recruitment right boosts UK productivity by £7.7bn each year.
Confidence among the region's businesses is at its highest since before the last general election as the partial reopening of the economy begins, according to new data compiled by East Midlands Chamber. The latest Quarterly Economic Survey (QES) for Q1 2021 showed a net 53% of businesses expect their turnover to improve over the coming year, with a third (net 35%) anticipating a rise in profits.
DC Personnel caters primarily to the industrial sector of the local economy, as well as engineering and commercial and jobs in both temporary and permanent roles.

If you are a local business looking to hire or you are a candidate looking for your next opportunity get in touch with Leicester's newest recruitment start-up www.dcpersonnel.co.uk